Pavement Signs with Water Fillable Bases
---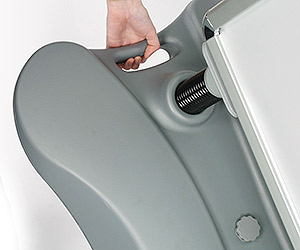 Pavement Signs Feature a Weighted Base to Stabilize Message Presentation
These pavement signs have fillable bases for water or sand to secure advertising presentations. The display systems are weighted and wind-resistant so they will not tip during inclement weather, or at busy times of the year. Each of these pavement signs entices customers from the street inside an establishment to peruse wares, with bold promotional messaging. These message boards are constructed of durable plastic that holds up with heavy usage, for many years, saving owners time and money. These outdoor pavement signs, also known as weighted promotional displays, are lightweight, and some of them are equipped with wheels for even more portability. Sidewalk signage with snap-open design enables the user to load graphics conveniently from the side into the casing. Most of these pavement signs feature a protective acrylic lens to keep contents free of from sun damage and tampering. Fill the base (or in some cases, the legs of the unit are filled) with sand or water to keep artwork secure, even in inclement weather! This type of mount is preferable to frames that are not weighted, because they won't topple over in strong winds or heavy foot traffic. The plastic waterproof construction is superior to metal and wood when used outside because these fixtures won't rust.
Which venues are these menu stands with water and sand fillable base best suited for?
Weighted pavement signs are the perfect choice for restaurants and bars, where messaging about new menu items, IPA beer selections, and featured bands can be displayed without worry that the fixture will tip when record numbers of hungry and thirsty patrons show up.
Fillable plastic base designs when weighted by sand and water can be placed on a curb outside a retail store with no fear of tipping when sale-seeking shoppers come in droves during a seasonal ad campaign. Curbside advertising with fill holes can be counted on 365 days a year for effective, stand-up messaging.
Pavement signage with fill holes is a great wayfinding tool for big events. Place the stands in parking lots to show people where to go or where not to go, or set them up on the grounds of a festival or concert to point to bands, food courts, and more. Prevent chaos and keep visitors safe by telling them where the line forms, or which door to use.
Outdoor sandwich boards can be filled with sand or water and placed securely outside a beauty or nail salon, as well as in front of a real estate or travel agency -- all of these establishments depend on sidewalk traffic for advertising as one component of a marketing plan; especially in the spring and summer.
Choose exterior rated plastic signage that won't let you down during the high season. Fill holes in the base or legs are a clever way to ensure the units are weighted enough to stand up to throngs of people or windy weather. Some models have wheels, too, making transport along a sidewalk even easier. Another attribute of fillable boards is portability - they can always be emptied when it's time to go home. Others offer additional messaging space with header areas. These wind-resistant advertisement holders are a great marketing tool for announcing sales, specials, events, and directional information outside of an establishment, tent, or office. The fixtures are available in an array of styles, from snap frame, to swing-frame and spring-loaded designs for flexibility in high winds. More stationary versions such as plastic post or framing systems are also great for temporary displays, or simple to set out in the morning and bring in at night.
This signage comes in a variety of display surfaces compatible with wet-erase markers, letter kits, and stock or custom graphics that work with Coroplast® inserts. In addition to fillable base mounts, this category offers swing-back signage that are spring-loaded and sway in the wind without tipping or breaking. When purchasing weighted base units and other poster frames, choose durable supplies like these, made of sturdy and versatile polyethylene plastic that stands up to any weather condition but is lightweight for easy portability! A protective lens keeps valuable artwork and imagery tatter- and smudge- and fade- free, year after year.