Sidewalk Poster Stands | Metal Snap Open Sandwich Frames
---
---
---
---
---
---
---
---
---
---
---
---
---
---
---
---
---
---
---
---
---
---
---
---
---
---
---
---
---
---
---
Sidewalk Poster Stands - Aluminum Pavement Signs with PVC Lens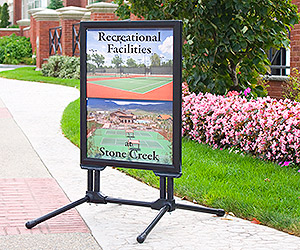 Looking for sidewalk poster stands for your outdoor advertising needs? The snap-open signs are designed for use as versatile displays! These double-sided frames can be used outside to advertise sales, promotions, business hours or specials. The graphic inserts make them economical and reusable as you can simply change out the signage without having to buy a new frame or stand. Some units expand the information space by offering headers, while others have brochure holder attachments for "take one" literature. Choose from a variety of finishes in black, silver or white to best match your décor or theme. The sidewalk poster stands, also known as sandwich signs, include snap-open frames for quick-updates, as well as spring loaded models that stand up to the elements out of doors. Because they are lightweight, portable and easy to set-up, you can bring them in and out every day, or place them outside a booth or tent at trade shows, events, fairs and expos to draw prospective clients and customers to your products and services. Choose metal sidewalk signs from an array of sizes for large, medium, or small posters depending on your advertising needs.
Where can these glare-reducing snap-open holders be used?
Sidewalk poster stands are ideal for storefronts and high traffic areas outside of a shop, restaurant or cafe. The portable style makes them easy to store inside and then place outside in the morning - some fold for storage.
Aluminum sandwich boards are used in restaurants to detail specials, menus or hours of operation and can be placed in the waiting area so patrons can browse the day's specials while they wait or as they are walking in.
Metal sidewalk signs are lightweight, which makes them a great choice for fairs, trade shows, and other offsite venues. Place these portable sandwich boards near your booth to entice passersby to view product demos.
When shopping for aluminum signage, keep individual vendor needs top-of-mind: Some of these hinged stands come with wire brochure and business card attachments to dispense advertising information as customers leave a venue, ensuring a connection made is a connection kept. There are numerous designs to choose from as well, from a-frame to T-base, and more. A feature to look for when browsing a steel pavement signs is a spring system attached to the base that allows the unit to sway in the wind, vs. tipping over. Some of the steel frame displays fold with just one hand, which is a great feature for busy event staff who need to be in six places at once. Sidewalk sign holders with a magnetic lens make changing out messaging easy, and are preferred by shop keepers and cafe owners who need to be a step ahead of the crowds. Some retailers will want to purchase pavement stands with headers so prospective customers know right off the bat what's for sale. Dual-sided sandwich boards that are waterproof are great for keeping advertisements protected in inclement weather while promoting goods and services to customers on both sides of a street or sidewalk.
Because we know that sticking to a budget is important for any business, we price all of our poster stands at wholesale prices. In addition to being priced to sell, these free standing snap-open and swinger frames are designed to be ultra-durable in all weather. Even in inclement conditions, the aluminum signs will not rust, dent or bend. However, keep in mind that printed graphics should be placed beneath the PVC lens to protect them from dust, dirt or water. The double-sided sidewalk frames are the ideal advertising solution and make the most your commercial space by extending out to lawns, front yards and highly trafficked walking areas!