Sidewalk Letter Board | Pavement Signage for Custom Messages
---
Letter Boards for Sidewalks in White or Black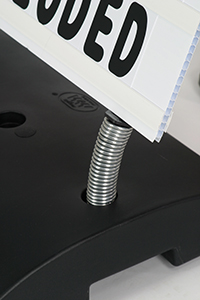 A sidewalk letter board is a great way to create a unique messaging display for high traffic areas. Each advertising frame includes more than 300 changeable letters, numbers and symbols that can be easily seen by passersby. With these outdoor sign character kits, users can make custom messages for any business. Sidewalk letter boards, also known as pavement signs, can range in size from 22" x 28" to 48" x 36," and be designed for indoor or outdoor use. Restaurants, bars, retail stores and other venues benefit from these changeable advertising fixtures because they can be used to promote menus, drink specials and sales information. Outdoor changeable letter signs come in aluminum or plastic and they can be used indoors as well. This pavement signage comes in a choice of black or white backers with channels to insert the individual chips.
What types of custom message pavement signs are available?
A-frame sidewalk letter boards feature a folding design that is double-sided for facing both directions of traffic. Some models offer an additional area for a logo, branding information or other custom messages.
Weighted-base changeable letter boards are made to be wind-resistant. This style is available in two designs: the spring base and the swinger sign. Both frames can be filled with water or sand to prevent them from tipping over in high winds. A spring display or "springer" will bend in breezy conditions. A swinging stand (or "swinger sign") sways with the wind and has a lighter structure. Some sign boards from each category also come with wheels for easy mobility even when weighted.
A changeable letterboard is an ideal solution for indoor and outdoor advertising. For an attention-getting contrast, black backing surfaces include white characters and vice versa. Red symbols stick out to convey important information to customers such as pricing, quantities, and times. Our boards are sold with wholesale pricing on every order. Purchase an economically priced sidewalk sign today and get fast shipping!