Sidewalk Chalkboard Easel | Blackboard A-Frames
---
A Frame Chalkboard Easel for Sidewalk Advertising & Customized Messages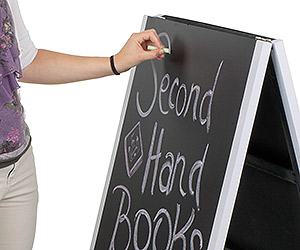 Need an affordable advertising solution with custom messaging capability? A sidewalk chalkboard easel is great for creating customized outdoor blackboard stands. All of the featured folding a-frame signs face both directions of traffic. Engage visitors coming and going! A sidewalk chalkboard easel, also known as a pavement sign, offers effective changeable messaging when placed outside restaurants, bars, stores and other venues that depend on curbside traffic to boost sales. For seasonal outdoor advertising, these folding menu stands are a great way to lure visitors off the street. Promote daily specials, game nights, sales events and other time-sensitive information that will draw in new visitors for special events, sales, or dining experiences. Double sided blackboard signage with a customized message using stick or liquid chalk boosts the number of visitors without a cent spent on expensive print advertising. Place these outdoor sandwich board signs in a high traffic area. Place these dry erase sandwich boards and liquid markerboards with a dual-sided design and enjoy twice as much foot traffic into your shop or bistro. Make an eye-catching statement by creating bold lettering and artwork in multiple colors using wet and dry-erase markers, liquid and stick chalk (different boards will be compatible with different writing tools.) Sidewalk chalkboard easels are fun to use -- draw traditional white or color messages and artwork with the complementary writing tools that can be updated quickly throughout the day or week. To accommodate different messaging needs, A-frame signs for chalk are available with a variety of features.
What are the options when choosing pavement blackboards?
Sidewalk chalkboard easels are available in classroom green or neutral black writing surface styles. Each of the choices has different properties that should be considered when purchasing write-on A frame signs. Chalkboard easels with a green surface are intended for use with stick chalk. To wipe away messaging, simply use a conventional dry eraser. Many black sandwich boards support wet erase, dry erase -- liquid chalk markers -- as well as traditional chalk sticks for creating vibrant, old world displays. Erasing water-based writing from chalkboard street signs require only a wet cloth or a melamine foam sponge.
Each A frame chalkboard sign comes in multiple framing styles. While all models are folding sandwich boards, different choices of construction, size and style are available. Wood framing can be finished in oak, mahogany, cherry, teak or black. These fabrications offer a classic appearance that blends with any environment, indoors or outdoors. Alternatively, a folding aluminum frame usually features either a silver or black finish. Metal chalkboard easels are generally more expensive than wood but offer increased durability and resistance to outdoor conditions. Additionally, some folding blackboard models include a removable header for writing business names, company logos or additional advertising. Wire brochure dispenser attachments are also available for some of the fixtures. Buy the chalkboard sidewalk sign that suits the style of your decor whether it's traditional or modern.
These sandwich board signs that come in wood and aluminum can be placed outside of a store or cafe to tell visitors what's inside the venue, or if there are sales or special festivities going on. Disseminate information about daily menu specials, new inventory, and sales -- or reference the quality of goods and services or other messages to reinforce brand. Double-sided pavement signs are great for seasonal outdoor advertising and capturing attention on either side of a sidewalk. Easels for curbside can be used indoors or outdoors with their sturdy fabrication. However, erasable messaging is vulnerable to inclement weather, so A-frame sign fixtures should be brought inside in bad weather to preserve the writing.
Need to move promotional fixtures inside? Outdoor curbside easels like these feature a lightweight folding design that makes them easy to move and store. An old school blackboard parked near a register or in a prominent place of a store conjures old-world charm, inviting visitors in to relax in a friendly environment or simply advertising selections contained in a shop. This signage is useful when drumming up new visitors at bars and clubs, service organizations, retail stores and more when used outside a venue. Inform guests about your business in numerous ways using blackboards in an array of materials with numerous writing surfaces. Create fun messages centered around an establishment's brand, or provide directional information in parking lots or at outdoor events. Order online and take advantage of same day shipping and wholesale pricing for items ordered in bulk.