Real Estate Sign Frames | Metal & Plastic A-Frame Holders
---
Metal Lawn Frames with Stakes & Plastic Fillable Signs for Real Estate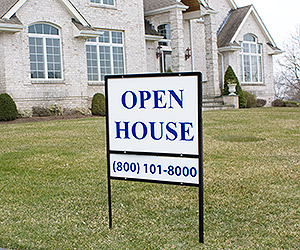 Who hasn't seen real estate sign frames poked into yards in front of homes for sale in spring? Everyone is familiar with spear-style lawn signage poking into new grass in front of homes and property for sale; or freestanding plastic sandwich boards announcing candidates running for local and national office. Metal and plastic real estate sign frames come in a full variety of styles in addition to the traditional "H-Style" and A-frame wire framing. Many versions have bases that allow use indoors as well as outdoors, increasing the flexibility of this type of signage. Traditional real estate sign frames, frequently called lawn stakes, consist of wire or steel framing supporting a rigid poster board in Coroplast or other types of plastic. These custom printed advertisements for election campaign messaging and on-site property sales promotions are affordable and effective outdoor sidewalk signs. Looking for outdoor sign holder systems for advertising a car wash or yard sale? We have a wide variety of folding stands. These plastic a frame signs work well with less permanent advertising for those purposes, plus restaurant, trade show, meeting, classroom, not to mention any type of retail store or special event.
What types of framing is available in addition to traditional wire lawn stakes?
Real estate sign frames for outdoor use are generally single-sided and designed for use with pre-printed graphics, such as agent or realtor names and contact information for sale or rental property, election campaign candidates and service business information. Signage come in a variety of styles, from simple H-shaped metal holders with lawn stakes to durable plastic "Colonial-style" metal sign frames with stake base. Features such as headers and fixed or swinging bottom riders help draw attention and allow the same real estate yard advertising panels to be used with changeable details such as phone numbers or website addresses.
Plastic a frame signs offer the same durability as lawn stakes but allow for double-sided advertisements. Need a sturdy base? Folding sign frames can be used on solid surfaces, allowing the messaging to be displayed on sidewalks, or indoors. Slide-in channels hold graphics printed on rigid material such as Coroplast®, Corocel®, Sintra® or similar engineered substrates. In addition, this type of framing can easily be used with aluminum, PVC, styrene or cardboard.
Base grip signage is designed for use in a number of locations and can accommodate a number of different signage materials. From simple metal clamp-style holders for temporary yard sales or other outdoor events to screw-in sign frames that offer increased stability, these easy-to-change signage displays are perfect for use at school or organization functions, on trade show tables, at functions, as meeting or presentation accessories and at restaurants.
Springer and swinger framing come in both single and double-sided versions and are designed for easy display of pre-printed messaging on rigid materials. Perfect for real estate yard advertising showcasing realtor, agent or property information, the weighted signage can feature either a water base or an a frame signage holder. As with other non-lawn stake bases, this type of display is perfect for event use, as it is both easily portable and usable on solid surfaces.
Pole mounts and brackets are great for hanging posters and their holders from telephone or light poles, fences and other vertical supports. Realtors advertising property for sale, community yard sales, election campaign information and more using metal sign frames.
Portable, temporary signage is perfect for use in situations that require stability and durability without permanent installation. Realtors, agents, candidates, businesses and organizations have long known the benefits of using economical plastic or metal to create high visibility advertisements that can be used, moved and re-used in a variety of situations at an economical price. Spring and summer are prime times for outdoor events, so freshen up metal and plastic signage with these versatile supplies!