A Frame Signs for Retail & Restaurant Use
---
A Frame Signs - Wood, Aluminum, & Plastic 2-Sided Outdoor Signage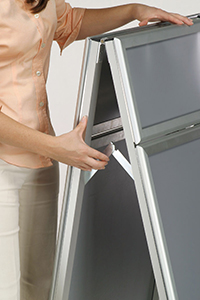 How can a frame signs help retailers boost sales without spending a fortune on marketing? Quick-change sandwich boards can be placed outside a shop or restaurant door in the morning, creating instant advertising to draw potential customers inside. Lightweight message displays are not expensive, and collapse quickly at night for convenient storage in a closet or hallway. Double-sided outdoor a frame signs that fold up allow retailers to target prospective customers coming and going.
Business owners prefer durable sidewalk signage in three distinct surface styles: write-on, for use with wet- and dry-erase markers; letter board, for use with plastic lettering kits; and insert, sold with plastic templates for custom graphics and text. These versatile a frame signs, also known as sandwich displays, create visual interest in goods and services outside a business or storefront, transforming street traffic into customers.
Some of the sidewalk sign styles here are suitable for restaurant and bar advertising, while other designs work better for stores and shops. Insert message boards with custom graphics and text rely on snapframe technology to easily load or update information. This promotional framing is so easy for staff to update, they won't mind when prices change, or specials are added. Another great option for capturing street traffic attention is write-on signage with bright neon markers. Whether wet- or dry-erase tools are used, the shiny surface makes it easy to fix mistakes using a wet or dry cloth. A third option is letter board style, which includes full sets of red and black plastic letters, numbers, and text that are fade-resistant and really pop outside a deli or convenience shop storefront.
Clearly, the most popular attribute of these outdoor frame signs are their hinged design that makes them so easy to fold, transport, and store. Some of the units have built-in carry handles for added convenience, yet all of them can be moved from curb to closet without putting anyone's back out. Promotional messaging is super-easy with these sandwich boards, freeing up time for business owners to focus on customer interaction, inventory organization, and sales.
Want to draw even more attention to your products and tell customers what they'll encounter inside your establishment? Some of the outdoor a frame signs, including write-on, changeable letter board, and insert styles, have headers to quickly inform customers what type of goods and services they will encounter when they enter the establishment. Headers are also a good place for a company logo, tagline, or a targeted caption to reinforce store brand. Some retailers find it convenient to create permanent riders that are used every year, only changing out the posters below with seasonal messages or sales announcements.
What styles of outdoor signage for retail use feature light weight, durable construction with a folding design?
Insert A Frame Signs: Easily update information about new products, sales, or reinforce brand using taglines, graphics, and logos inside snapframe technology. Easy-change Coroplast® panels are purchased separately for custom graphics to be placed, all behind a protective, anti-glare lens. With two-sides for messages, these light weight plastic holders are sturdy and weather-resistant. For an even sturdier option, choose aluminum signs in silver, black, and faux-wood finish.
Write-on Boards: Surfaces run the gamut from traditional black and green boards compatible with old fashioned chalk and erasers, to white and black shiny surfaces that can be written on with "liquid" chalk (also known as wet-erase markers) and wiped off with a sponge or wet cloth; or dry-erase markers, which can be wiped with a dry towel. Writing tools come in eye-catching pastels, or neon colors including yellow, pink, green, purple, orange, red, and black.
Changeable Letter Displays: Sidewalk promotional signage with numbers and lettering gives store owners flexibility to be creative. Compatible with easy-to-use kits that include all of the characters needed to make custom messages, these do-it-yourself systems are fun to play with. Lettering is made of fade-resistant, perforated plastic.
Most of the featured lightweight poster and sign holders have two sides, so you've got two chances to get noticed. Many of these street fixtures have a protective, anti-glare lens that prevents sun damage and permits crystal clear views of art and information, even in broad daylight. Snap frames are easy to set up and populate with logos, messages, and taglines, generating quick sales. In addition, these injection molded advertising sign holders are virtually indestructible. Constructed of polyethylene plastic, silver and black aluminum, and solid wood like oak, mahogany, cherry, and teak, these quality displays stands offer features to suit any decor.
Retail shop keepers and service people promote sales and new product lines by placing chalk and wet-erase boards outside the front door of their establishment. Plastic a frame signage is popular in parking lots to provide directional information, or announce that a lot is "full". Poster holders with Coroplast® inserts can be easily updated with new messages - customize four separate blank inserts to represent all the seasons. Traditional wooden sandwich boards conjure a more nostalgic era in all types of venues, from casual to upscale, shop to restaurant. Metal is super-sturdy and reliable. Whatever frame, surface, or writing utensil you choose, plan to boost marketing quickly with the versatile selection of pavement signs offered here.