Rolling Sidewalk Signs - Pavement Displays with Tilt-and-Roll Design
---
Sidewalk Signs with Wheels for Easy Placement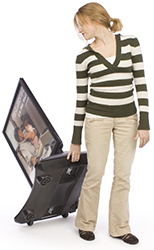 Need a stable pavement display that isn't a hassle to move? These rolling sidewalk signs are highly transportable yet they're made to withstand prolonged use outside. The message board with wheels are made of durable metal and plastic and features a neutral finish that matches and business. This type of rolling sidewalk sign, or outdoor A-frame, is an excellent choice for retail stores, restaurants and other businesses that want to bring in customers from the street. The double sided fixtures can attract passersby from far away with their high visibility design. While the rolling sidewalk signs are made of strong materials, they're made to be lightweight for easy mobility.
What makes these outdoor A-frames great for advertising outside?
Each of the rolling sidewalk signs is made of durable plastic and metal to with stand inclement weather conditions. The outdoor A-frames also come with a clear PVC lens that protects prints from being damaged by moisture, dust and fingerprints.
Made with a lightweight design, the portable pavement signs have wheels on the bottom for relocating to new areas with ease. Some models use a "tilt and roll" style that keeps them stable when standing upright.
To prevent them from falling over, many of the double sided message boards have have a weighted base for filling with water or sand. This makes the metal and plastic stands more wind resistant and thus better for placement on open streets.
The portable pavement signs can also come with other features that keep them upright in inclement weather. Some models have wind resistant springs that cause signage to sway instead of toppling. Other units have a swinging design that will catch attention when wind blows through them.
What different types of displays are available on these sidewalk signs with wheels? Traditional poster stands can feature business' printed graphics behind a transparent lens. These outdoor A-frames come in a number of sizes ranging from 22" x 28" to 40" x 60". Message boards with letters are another great option because they can be quickly rearranged to create new advertisements with updated pricing information. For full customization, the double sided sidewalk signs are also available as write-on fixtures with liquid chalk or dry erase markers. Our selection of plastic and metal stands can can accommodate any business with their different styles. Offered in neutral finishes like black, white and silver, the sidewalk signs with wheels are excellent for promoting restaurants, retail stores and service organizations. Order on SidewalkSigns2go.com today for quick shipping and wholesale pricing.